Privacy and Security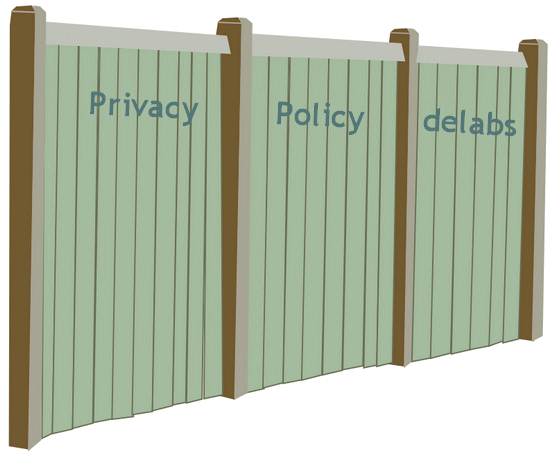 delabs Sites does not collect or ask the visitor to provide any personal or private information. delabs Sites does not use any technical or other mechanisms to obtain your name, email, phone, address or any other personal information. delabs understands the importance of user privacy and will ensure that private information is not collected by the web pages or software at delabs Sites.
Interactions
Communication in delabs Sites is done by email, contact forms and forums, The Visitor can use these to give limited details on his own accord and consent. This information is used to reply and solve a technical issue. The email, name or other details are not used by delabs for any other purpose and is kept confidential.

Advertising
delabs Sites now has only Sponsored Banners from companies, these are Images with links. No Scripts or External Services used.
See - Advertising in delabs and dapj
Ask or Tell delabs
Message at delabs desk
delabs Sites
All delabs Sites are only available on SSL that means Secure and Private Data over the web. Use https:// Prefix.
The Above URLs are of the Websites of delabs, Indicated as the delabs Sites in all references above, Full List delabs sections - Sitemap of all delabs and dapj..
Brands
delabs, dapj, Anwheel and EEMetric are brands of delabs Technologies.
Misrepresentation - There are some websites, blogs and profiles that use the delabs brand names. Some are mere coincidence. Quite a few are impersonation, imitation and plagiarism. These fake entitles use our brands to make commercial gains by the misuse of Social Media and Digital Marketing methods.
Linking
delabs Sites links or lists many good websites, firms and pages with a summary of the description provided on that website. These may be like the products, services or other information that the webmaster of that site has published for public view.

delabs Sites takes utmost care while linking to pages of companies and individuals. The visitor is requested to observe caution when he visits an external link, by means of search, media, ads, pages or blogs.
Sections
EE Open News and other blogs allows Anybody to Post Electronics Engineering News or Articles Anonymously. These are Moderated and Published. Public can submit in Anonymity an EE Firm or Tech Article and interact using Nicknames for full privacy.

Communities
delabs has created two sections for communication and collaboration. You can set the privacy the way you want. Use Nicknames and Sketch Avatars for full Privacy. Dedicate a separate email for public communities. Share phone numbers and addresses only if you are a Business Entity, Freelancer or Consultant.

Security
delabs Sites hosting is secure and precautions are taken to make the Web Applications safe for user. There are rare possibilities though, Just like any website, the security could be breached and website compromised.
Redirection - When you try to visit a Website it could lead you elsewhere. Visitors and Traffic may be Hijacked at different points in the path. Right from your Smartphone or Computer, to the Webhost, ISP, DNS, Application, Cloud or CDN. It could also happen on any Server in the path including VPNs.
delabs advises all people and companies to move to SSL structure with https:// prefix for websites. This certainly reduces the chance of misdirection and also makes the sites safer for visitors.
delabs also requests visitors to use a Laptop or Desktop with Linux for Optimum Privacy and Security.
Please be cautious while using the Smartphone, Social Media, Instant Messengers and Apps; these are the source of many of the Privacy and Security incidents we see today. Before you start browsing the web, turn off location, clear history and log out of all services, this enhances the privacy and security of your Online Sessions. It may be a good and safe idea to do all financial transactions on a Laptop Browser with a Dedicated User ID for solely that activity.
delabs Technologies
Commenting for this entry is disabled.